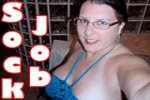 Sock Job, It's TUG Love
12min - 299.0 meg - 640x480

Sock Job, It's TUG Love - Hi guys, I'm Rose Ryder and this video is about a Big Cock getting tugged and stroked until ejaculation. That's right, let me show you some Tug Love...And it gets better, I take off my socks, that I have worn all day long, put them on my hands, and stroke my studs BIG FAT COCK. He just loves it, watch as his cock grows from the motion of my stroking hands, imagine the ecstasy he enjoys from the feel of the socks around his cock...he cant hold on for long and spurts gobs of cum all over the place, even on the socks. So like a good lil tug queen, I take the cum soaked socks off my hands and put them back on my feet. Grab a comfy chair and get settled in, because it's time for me to show you some tug love! Runtime 12 Minutes and 59 Seconds.


$12.00