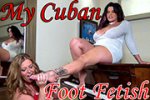 My Cuban Foot Fetish
10min - 508.2 meg - 1280x720

My Cuban Foot Fetish - Angelina Castro has the kind of beautiful feet you just can't get out of your mind. She has soft soles and deliciously curved arches and she just loves to use to tease Shelby Sexton, her naughty foot slut! Steamy foot fanatic pleasures are plenty as Angelina shows off her perfectly polished toes inside some strappy high heels, showing off every sexy inch of her perfect peds. Decadent Shelby worships Angelina's sweet toes and uses them like only a lucky foot servant can. Shelby rubs Angelina's smooth soles all over her face, sucking her toes, and pouring milk over them and licking it off. Shelby is the consummate foot slut and knows just how to please. Angelina rewards Shelby be giving her a good look at her juicy pussy while she masturbates then gets on all fours so Shelby can see her gorgeous ass as she continues to worship her feet. My Cuban Foot Fetish brings the much anticipated Shelby Sexton and Angelina Castro onto video with style and sensuality, and like all foot worship videos, the focus is "solely" on the feet! Runtime 10 Minutes and 59 Seconds.


$10.00